College Coaches Weeks
Jun 12-15 – MIT Head Coach Thierry Lincou
$945 for members, $1,095 for non-members.
Daily 9am to 4:30pm
Players rated 2.8 and above
Morning Session – techniques, solo and group drills, fitness (Footwork/plyometrics/speed/agility/core)
Afternoon Session – conditioned games and games/matches
Talks – mental techniques, training/tournament prep, CSA and PSA
Lunch included
Residential option available for $400 with daily breakfast and transportation to club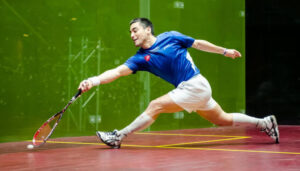 Jul 24-27 – UPENN Coaches Gilly Lane & Stuart Crawford
$945 for members, $1,095 for non-members.
Daily 9am to 4/4:30pm
Morning Session – techniques, solo and group drills, fitness (Footwork/plyometrics/speed/agility/core)
Afternoon Session – Theory, Discussion, Fun Activity, Games and Match Play
Lunch Included
Residential option available for $400 with daily breakfast and transportation to club


Weekly summer camps
For all other weeks, there will be a morning session for beginners/early intermediates, an afternoon session for both intermediate and advanced players. All sessions will include drills and skill work, strategy practice, match play, and squash fitness.
Discounts:
Beginners/Early Intermediates – Bring a friend/sibling and get 10% off
Elite Camps: Buy 2 weeks, get 50% off the third week
Weeks:
Jun 19-23
Jun 26-30
Jul 3-7 (may be adjusted for July 4 Holiday)
Jul 10-14
Jul 17-21
Jul 31 – Aug 4
Aug 7-11
Aug 14-18
Aug 21-25
Aug 28 – Sep 1
PRIVATE LESSONS
Private lessons available outside camp hours. Please refer to our lesson rates.
Morning Session
9am – 12pm
Afternoon Session
1Pm – 4pm
---
Beginners and early intermediates
(Players with rating < 3.2)
(6 years and up)
$495/week or $110/day
Monday – Friday
elite clinic/camp
4pm – 6:30 PM
---
Intermediate to Advanced/Elite Players
(Players with rating > 3.5)
$495/week or $120/day
Monday – Friday