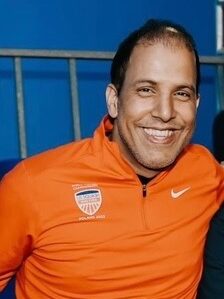 Kama Khan
Coach Kama is originally from Pakistan, and has over 17 years of coaching experience. Prior to full-time coaching, he was a successful professional player, having reached 131 in the PSA World ranking. Growing up in Europe he has played and coached in Germany, Austria, Switzerland, Poland, Ukraine and the list goes on. Kama is still a very active player who loves to compete in tournaments. Most recently, he placed 4th in the Men 35+ group at the World Masters Championship 2022 in Poland. He started his coaching career in Europe and gained extensive experience coaching both juniors and adults, and organizing PSA tournaments. He was the national squash coach of Ukraine and assistant coach for the Polish National Team in 2013.
For the past eight years, Coach Kama has been running very successful junior programs in Pennsylvania. These programs produced numerous top nationally ranked juniors who competed in the JCTs, British Junior Open and even the World Junior Championship. Kama is currently the Head Squash Coach of Malvern Preparatory School, and the Director of K2Squash Club at Malvern.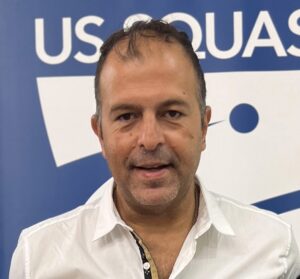 Mohamed Morsy
technical advisor
Coach Mo, a former PSA Top-30 player, hails from Egypt. He has over 30 years of experience as a professional player and coach. He's a US Squash Level 3 certified coach.
Prior to coming to the US, Mo had a wealth of experience coaching in Egypt. He was the National Head Coach for the Egyptian Junior Team which won a record-breaking 8 titles at the British Open. He was also the Head Coach for the Egyptian Women's Team that won the World Teams Championship for the first time in Egyptian history. Coach Mo also coached the Egyptian Men's Team to a second place finish in the World Teams Championship.
Coach Mo has had great success coaching individual players as well. He has coached PSA players like Mohamed El Shorbagy (Former World #1), Marwan El Shorbagy (Highest WR #3), Raneem El Welily (Former World #1), Nouran Gohar (World #2), Joshna Chinappa (Highest WR #10). His junior players has won the Egyptian Junior Championship, and European Grand Prix in BU19. Coach In the US, Mo has coached numerous junior players who rank top 10 in the country, including some #1-ranked juniors.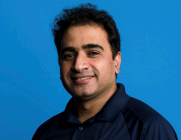 adnan gul
Coaching Pro
Coach Adnan is originally from Pakistan, and is an experienced Level 3 Coach. He coached the Malaysian National Junior Team from 2006 to 2011, and his students have gotten top prizes in national championship and international tournaments like the British Junior Open.
Coach Adnan has over 10 years of experience coaching in the U.S., having worked at Berwyn Squash Club, Ohio Squash Club and the Heights Casino. Many of his students were recruited to prestigious colleges like Princeton, Cornell, Dartmouth, Brown, Drexel, F&M and George Washington. He was most recently the head coach of the Varsity Squash Team at Poly Prep in Brooklyn.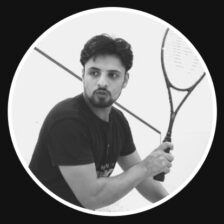 Mujahid Hussain
coaching pro
Originally from Pakistan, Mujahid (nickname "Maju") is a driven and accomplished squash coach with over a decade of experience. Prior to coaching, he had a successful professional playing career, having won multiple championships and reached the best PSA ranking of 176. He was most recently the national coach of the Bahrain Squash Federation. Before that, he spent two years coaching at the prestigious Black Ball Sporting Club in Egypt. From 2015-2018, Mujahid was the National Junior Coach in Bahrain. He was also the State Head Coach in Sarawak, Malaysia for two years.
He has coached numerous professional and junior top players in Pakistan, Malaysia, Bahrain and Egypt, including Salma Hany (Highest WR #10), Nathan Kueh (Current Penn Varsity player) and Si Ma (Current Stanford Varsity player). Since he came to the US early this year, he has been coaching at K2 Squash in Malvern, PA, where he quickly established himself to be a much sought-after coach.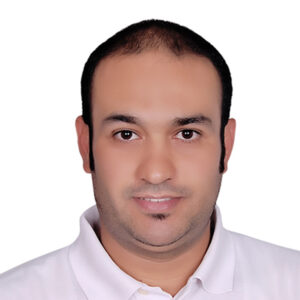 Ahmed El Attar
Fitness coach
Coach Ahmed has over 15 years of experience as a squash fitness coach, private trainer and rehabilitation specialist. He has worked with such elite squash professionals as Omar Mosaad, Raneem El Welily, Omnia Abd El Kawy, and Moustafa Asal, etc. He was the fitness trainer with the Egyptian Women National Squash Team in 2008.
Coach Ahmed has been working with many elite junior players in the US since 2014. He has also served as the fitness manager at Stanford Squash Summer Camp.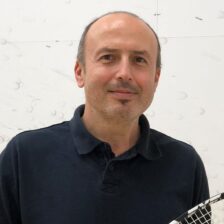 Hesham El Attar
Founding Head Coach (Retired)
Head Coach Hesham El Attar is a past world level player who has been coaching professionally for more than 32 years. His experience in coaching ranges from teaching beginners, to coaching some of the best players in the world. In fact, he has coached 7 World Top 5 professional players during his career, of which some have won the World Championships or occupied the number 1 spot in the World Rankings.
His experience and success with kids is also evident as he has also coached British Junior Open Champions and World Junior Open Champions as well.
After moving to the U.S a few years ago, he has taken numerous juniors in New Jersey to the highest rankings at National Level and helped them achieve their aspirations of joining some of the top colleges in the country.
"Hi, I'm Hesham El Attar and I really believe that squash is an exceptional sport. I would love to introduce you to this great sport and be with you as you enjoy it. The art and skills of the game, the speed, the strategy, the challenge, the satisfaction of winning. Whichever is "your fun" let's do it together. Let's do it right. Get the Squash Advantage".